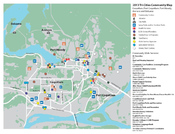 Interactive Community Map

View our online interactive community map
or download a copy (avialable in various languages) below.
Click on the images below to view larger format or download the resource in various languages through the pdf documents below.
Our new Community Resource Map is available for download in the following languages:
Additional Resources
---
For information on Local ECD Programs please visit the community resources program brochures page.
Information About Where to Refer If You Have a Concern About A Child's Development:
Additional Local Resource Information: